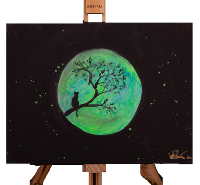 Take me to the Moon
Nachts, wenn alles schläft und nur noch die Katzen unterwegs sind, hat der Vollmond eine besondere Anziehungskraft und Schönheit. Diese Strahlkraft und Ruhe versuchen wir auf die Leinwand zu bringen.
Bei diesem Bild in der Größe 40×30 cm auf Keilrahmen verwenden wir nachtleuchtende Farben. Das fertige Bild wird also auch im Dunkeln etwas leuchten, was ziemlich aufregend ist! Wir verwenden sonst hauptsächlich schwarze Acrylfarbe, damit der Effekt besonders gut zur Geltung kommt.
Alle von uns verwendeten Materialen sind sehr hochwertig, z.B. die Keilrahmen von Artina oder die Farben vom Künstlerbedarf Gerstäcker.