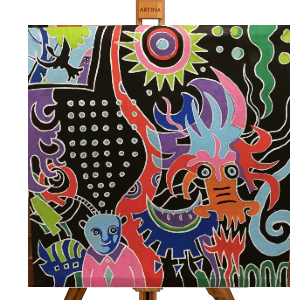 Thinking of the Dragon
Welche Farben, Muster und Formen magst du besonders gern? Abstrakte Figuren oder realistische Tiere wie den Drachen in unserem Bild? Der Phantasie sind keine Grenzen gesetzt!
Bei diesem Bild in der Größe 40×50 cm auf Keilrahmen verwenden wir ausschließlich schwarze Acrylfarben und POSCA Markers in verschiedenen Farben.
Alle von uns verwendeten Materialen sind sehr hochwertig, z.B. die Keilrahmen von Artina oder die Farben vom Künstlerbedarf Gerstäcker.